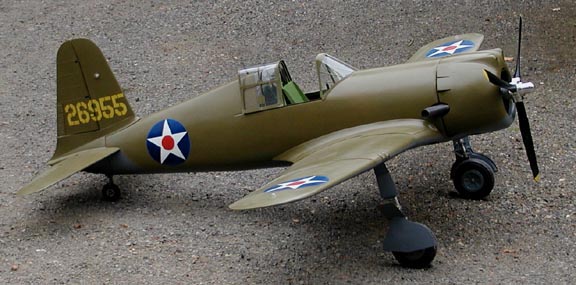 Vultee P-66 "Vanguard"
1:5 scale @ 86" span, (1146 sq. in.) for 1.8 2- stroke or 4-stroke, 24 lbs.
United States 1939
PURSUIT
Balsa & plywood basic construction
This airplane is a smooth flyer, and is easy to land
Plans 8 sheets (82 sq.ft) CAD drawn rolled in a tube

with balance diagram and 3-VIEW! $70 (frt. prepaid)

Printed Building Instructions 43 step-by-step pages plus a Bill of Materials $23 (frt $5 in envelope)

Things you need to know to build this airplane, plus general building tips, methods and materials.

The instructions include documentation, paint, color and markings information.

Canopies Vacuum Formed Clear PETG plastic in 3 sections $55 (frt $11)

Front and rear canopies with moving part seams molded in, plus the wing light covers.

MOLDED PARTS

Cowling Fiberglass and Epoxy one piece molded $75 (frt $11)

Wing Fillets Fiberglass and Epoxy both sides $50 (frt $11)

Fairing Fiberglass and Epoxy under wing fuselage bottom $12 (frt $11)

Fairing Fiberglass and Epoxy under stabilizer tail wheel housing $15 (frt $11)

Guns Fiberglass and Epoxy 2 pairs to fit on wing leading edge $16 (frt $4)

Oil Cooler Air Intake Fiberglass and Epoxy one piece to fit fuselage $15 (frt $4)

Trim Tabs Urethane Molded, ailerons, elevator and rudder $25 (frt $4)

Exhaust Pipe Urethane Molded dummy pipe to exit cowling $12 (frt $4)

Light Covers PETG molded clear plastic, 6 navigation and 1 landing $14 (frt $4)

PLANS AND MOLDED PARTS SET $380 (set frt prepaid)

THE FOLLOWING ITEMS NOT INCLUDED IN THE ' SET' ABOVE

Not Sure? Try this!

Computer CD Rom Building Instructions and Construction Pictures $20 (frt $3)

Instructions, a Bill of Materials, over 300 construction photos and finished aircraft photos on a CD ROM

to look at in your computer and print as you wish. (Add only $10 for CD ROM with printed plans)

Instrument Panel Kit Urethane molded panel and instrument faces $40 (frt $4)

Laser Cut Wood Parts, (wing only shown) All the wood parts in the airplane, except the skins $355 (frt $14 or prepaid with set)

Landing Gear A complete retractable gear and air system made especially for this airplane. $485 (frt $10 or prepaid with set)

Paint A water clean-up, almost odorless, fuel proof paint in scale colors, from "Warbird Colors"

Templates For wood parts to cut out yourself. Nested on wood outlines to use without cutting up your plans. $ 15 (frt prepaid with plans, frt $11 rolled in separate tube)

Paint Mask Templates Ask for them. We can send insignia and lettering templates to you in print form or to your template cutter in a cutting file.

NOTE: These parts were designed for laser cutting a "tab and slot" structure, and are more complex than most, with many rectangular holes.

E-MAIL US FOR QUESTIONS OR ORDERING INFO

Click below to visit the best R/C scale site on the web, and see this airplane under construction!